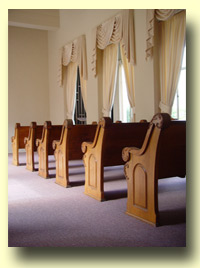 Inside of Chapel
Available for services, please
contact the administrative office
for more information.
If we can be of further assistance with your burial needs
please contact us during administrative office hours noted below.



Cemetery Grounds Visiting Hours
8:00 AM - 6:00 PM - M-Su
Mausoleum & Columbarium Visiting Hours
8:30 AM - 4:30 PM - M-Su

Administrative Office

8:00 AM - 4:30 PM - M-F
10:00 AM - 4:00 PM - Sat
Closed Sunday
Except when Monday is a holiday then, we will be open Sunday. 10:00AM - 4:00PM
Closed Thanksgiving, Christmas & New Year's



Appointments Preferred On the weekends...

Schedules for Removing
Flowers Left at Alta Mesa

MAUSOLEUM -- GROUNDS
....